What is the Safe Communities Vendor ID Program®?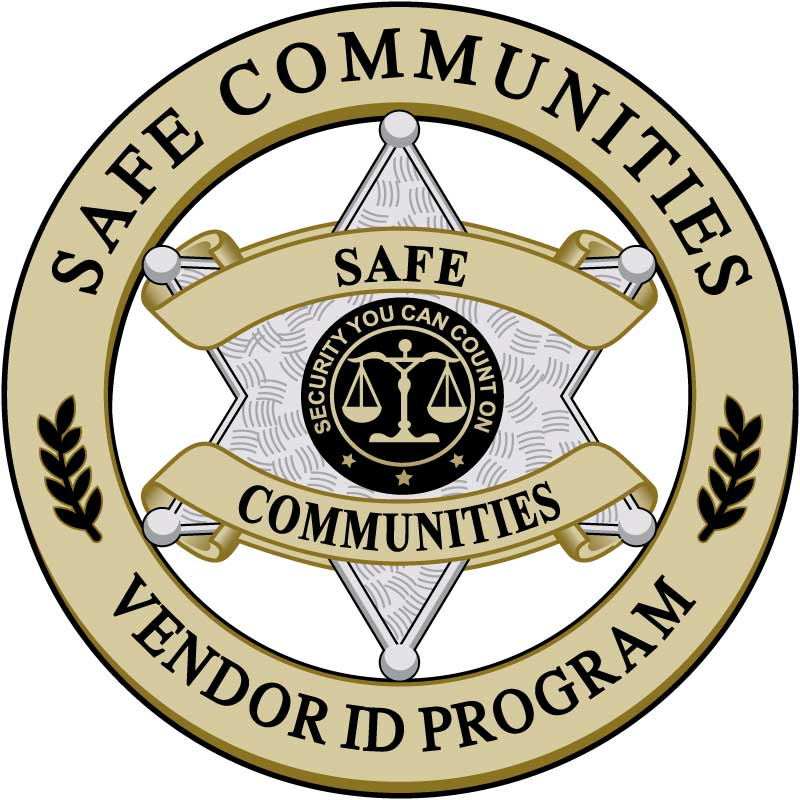 This program is designed to improve the security of gated communities and any business or organization by screening their vendors. By requiring vendors to apply for a Safe Communities Vendor ID®, prior to working on your property, you are taking a pro-active step to reduce the odds of crime occurring.
To receive a Safe Communities Vendor ID®, the vendor must not have been convicted of any of the following crimes in the past five years: robbery, burglary, theft, dealing in stolen property, aggravated crimes of violence, sex offenses, or being designated as a sex offender or sex predator. Applicants must also not have a history or ongoing lifestyle of criminal behavior, regardless of type, that would indicate future criminal behavior.
Applicants meeting these criteria will be issued a Safe Communities Vendor ID® card for a $35 application fee. Vendors can utilize this ID card at all participating communities. The Safe Communities Vendor ID® provides tremendous value to the vendors by allowing them access into all participating communities, for one annual fee. Vendors can apply for the ID on any smart device or computer.
"All that is necessary for the triumph of evil is that good men do nothing".
Edmund Burke
Mark C. Hall, CPP, CAM
Founder / Owner
Mr. Hall is Board Certified in Security Management (CPP) as designated by the American Association for Industrial Security (ASIS). He holds a Bachelor's Degree in Public Safety Administration and is a licensed Community Association Manager (CAM) in the State of Florida. He currently serves on the Community Association Institute's (CAI) taskforce, writing the Security Best Practices 2020 Report for Property Managers. Mr. Hall retired as Chief of Police after having served 22 years as a law enforcement professional. During his law enforcement tenure, he received his certification from the Attorney General of the State of Florida as a Crime Prevention Practitioner, and also as a Crime Prevention Professional from the ISCPP. In addition to his law enforcement career, Mr. Hall served as an Adjunct Instructor for the Florida Regional Community Policing Institute, based out of St. Petersburg College. He traveled throughout the State of Florida, teaching the principles and philosophies of Community Oriented Policing, Problem Solving, Ethics, and Leadership. Mr. Hall maintains certification as an A.L.I.C.E. (Alert, Lockdown, Inform, Counter, Evacuate) Instructor. A.L.I.C.E. is considered the leader in training civilians on how to respond to active shooter/assailants, and the development of policy, procedures, and training curriculum. Mr. Hall served as the Director of Safety & Security at Frenchman's Creek Beach & Country Club in Palm Beach Gardens, FL from 2012 - 2019. This community is considered one of the safest in the Nation due to its use of the most technologically advanced thermal imaging cameras & video analytics, security culture, vendor access control, and policy & procedures. Mr. Hall also maintains an active security consulting & training business and has conducted security assessments and training for gated communities and condominiums from Las Vegas, NV to Philadelphia, PA to Seabrook Island, SC to Miami, FL.
Ready to Get Started?
Protect your residents from unscreened individuals accessing the community as vendors and service providers. Implement the Safe Communities Vendor ID Program® and guarantee that only approved, background-checked vendors are working on your property. Make your community a "Safe Community."